I hate the phrase 'six-pointer' but it is relevant today. West Bromwich Albion visit the KC Stadium and both sides urgently need the points. They were on a semblance of form prior to their midweek humping by Manchester United, having been endangered earlier in the season by playing some very naive football. We were once the saviours of football, but at the moment it's tough to say we could beat a carpet, let alone another team.
A point would be satisfactory to the extent that it would stop the rot - six straight Premier League defeats with 17 goals conceded and just three scored is a horrendous recent record, the worst in the division, so anything that doesn't constitute defeat would be a start.
What we can expect, even with the associated tension, is a cracking game, because that's what these two sides tend to produce. Last season, with both sides gunning for promotion, the Baggies won 3-1 at the KC in January, live on television, in a wonderfully flowing, competitive, fair and fast occasion. Despite the defeat, it was one of City's best displays of the season, with
Richard Garcia
scoring a superb goal for the Tigers.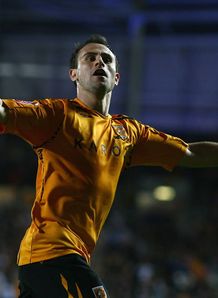 The trip to the Hawthorns two months later
, where
Caleb Folan
's late goal sealed a definitive 2-1 win, removed the last gram of doubt that the Tigers really could go up, and was as memorable and edifying and significant a day as any in recent Tigers history, made all the more satisfying by the way City's display ruined ITV's biased approach to the game on their highlights package, assuming as they did that Albion would win and therefore they only need concentrate on them. The commentator left lots of gaps when City were in possession because he hadn't bothered to find out who they were.
The Baggies will be smarting still from the
0-3 they received from us
back in October, when
Kamil Zayatte
,
Geovanni
and
Marlon King
scored second half goals in a mesmeric short spell and secured a fourth consecutive win while maintaining an unbeaten away record. Much has altered since then. Zayatte and Geovanni are not playing well, King has had one altercation too many and gone, and City have only won once at any venue, while also taking travelling defeats at
Manchester United
,
Manchester City
,
Everton
and
West Ham United
.
Albion have begun to toughen up, winning a gaggle of home matches before Manchester United gave them hell this week, and the peril of being marooned has gone, although they are still bottom of the table. Today they turn up without their influential midfield general and also with the assertion that any defenders they select represent a fitness risk. One hopes that with both sides going through bad times it doesn't halt the tradition of a free-flowing, enjoyable, end-to-end game, though right now a fan of either club would happily spectate a scruffy, dreadful match and take a 1-0 win.